Donate For Digital Access
Donate2 forms help monetize and automate online digital content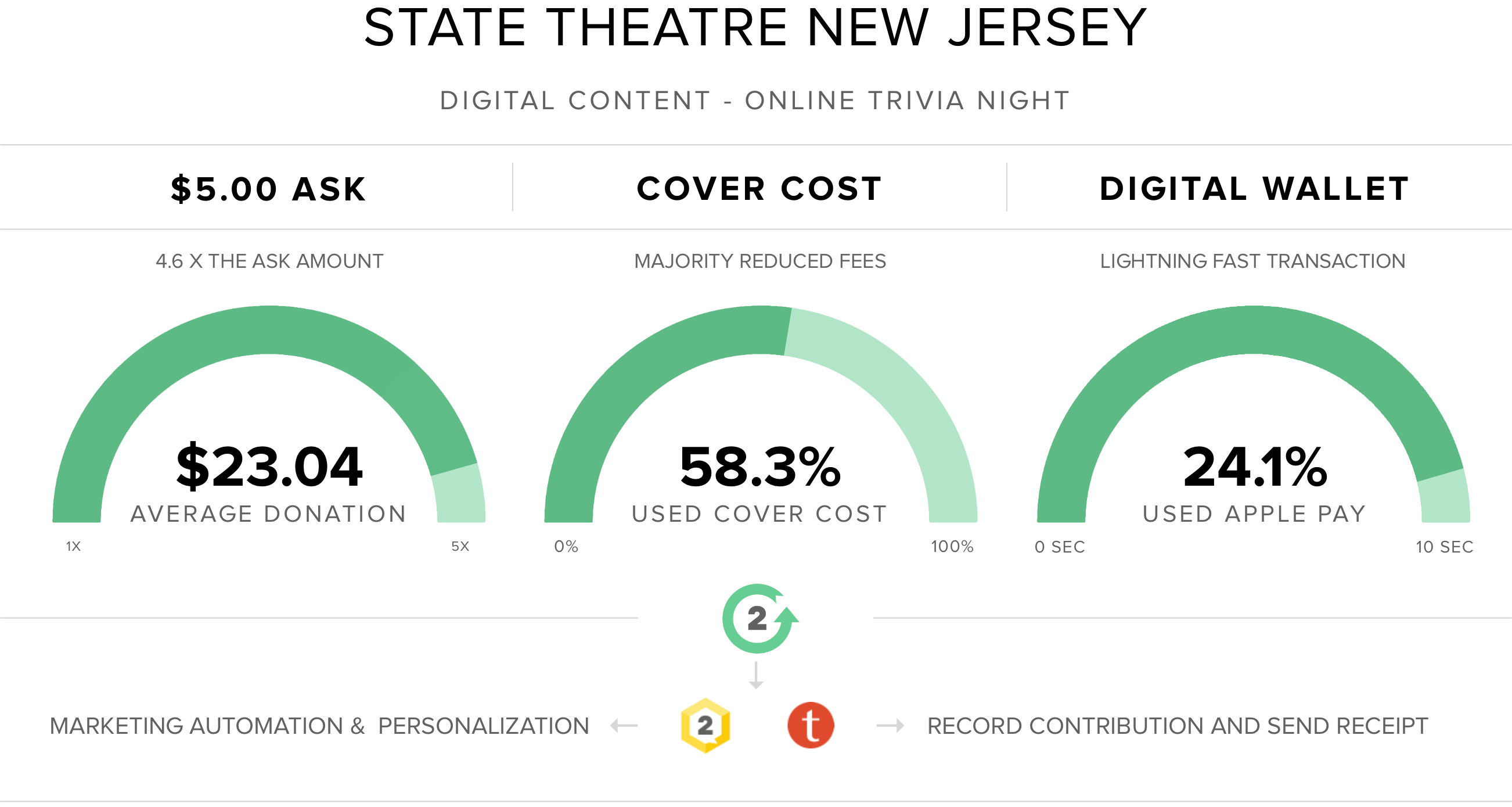 Online Trivia Night With Pissi Myles
State Theatre New Jersey asked for a $5 donation in exchange for access to participate in their 2000s Online Trivia Night on Zoom with drag comedian, singer, and hostess Pissi Myles. 
STNJ asked their patrons "Donate what you can. A minimum donation of $5 allows you to participate, larger donation amounts are greatly appreciated." That's exactly what they did. They donated larger amounts. On average, donors gave 4.6 times the requested amount.
Website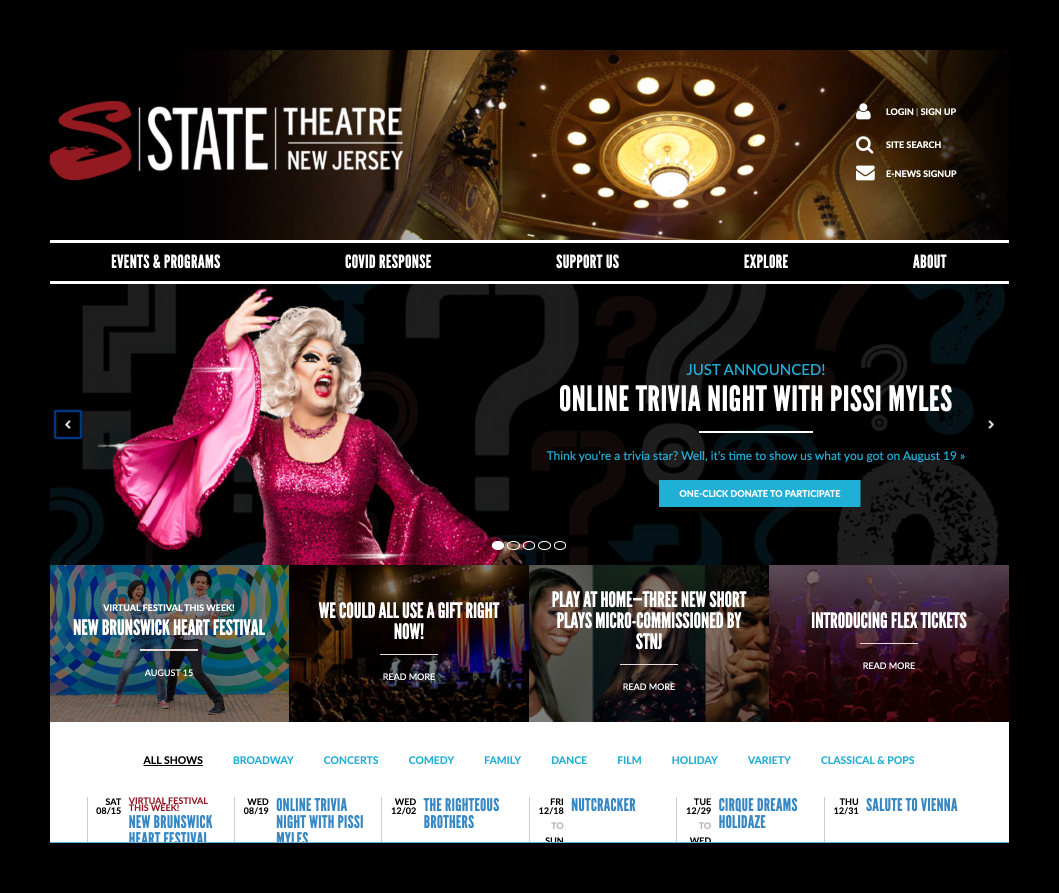 Social Media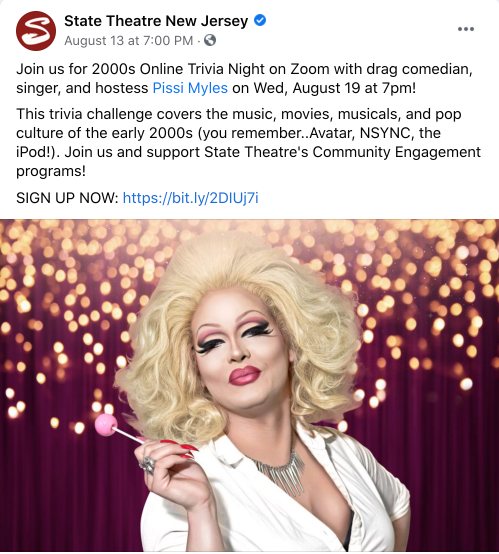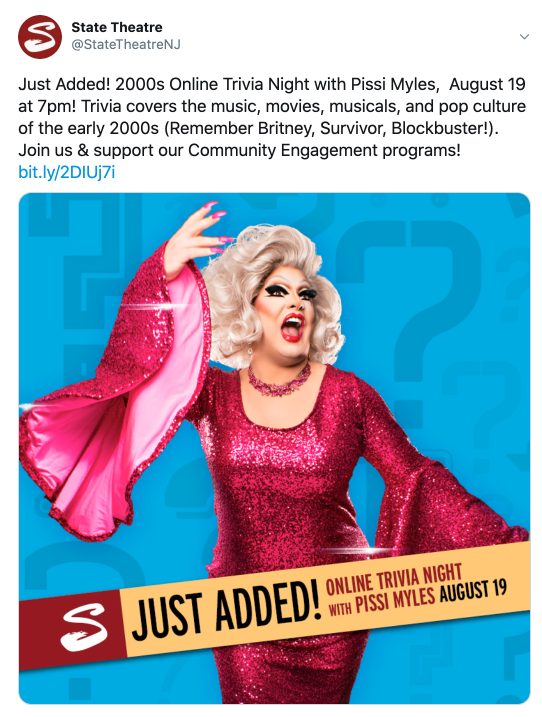 Email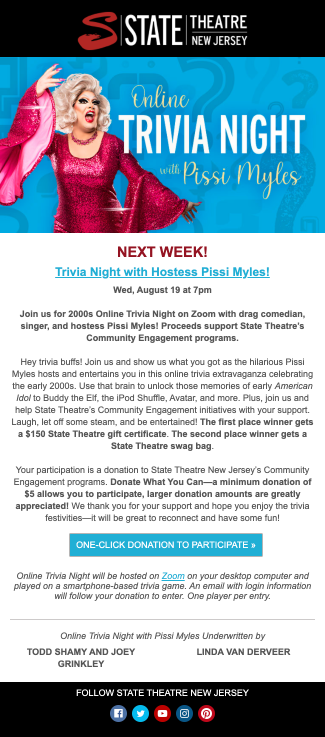 Making It Easy
Building the form for the event was quick and easy. Since STNJ already had a Donate2 form set up for their Annual Fund, they cloned it, updated copy, and changed a few payment configurations like setting the minimum donation to $5.00. They selected the corresponding Tessitura Fund, Source, Channel, and Receipt and STNJ was good to go.
All the interested user had to do to participle in this online trivia night was select an amount and check a box if they wished to cover cost. Using Cover Cost allows STNJ to reduce their cost to raise money by effectively lowering their transaction rate. Over 50% of donors chose to cover cost.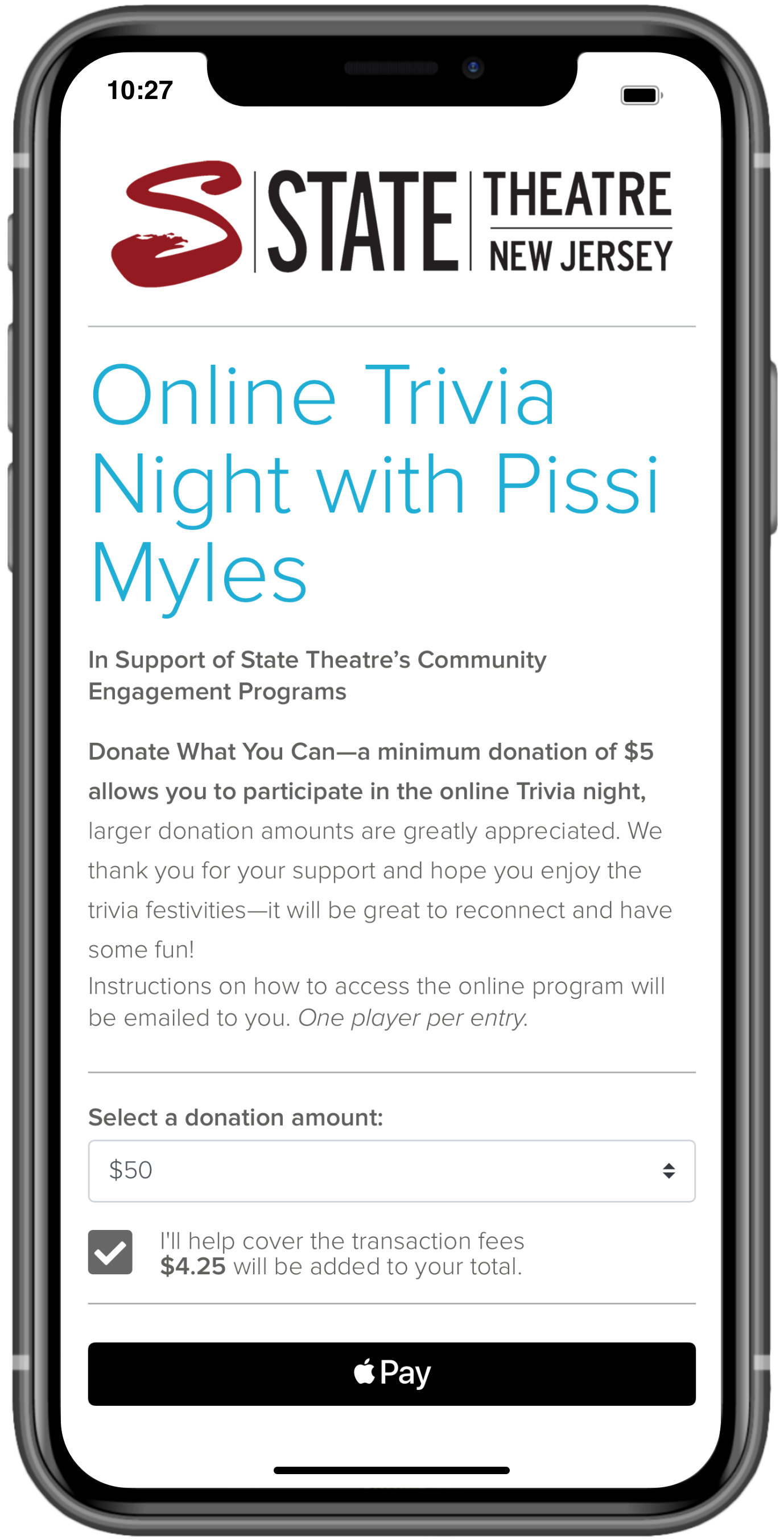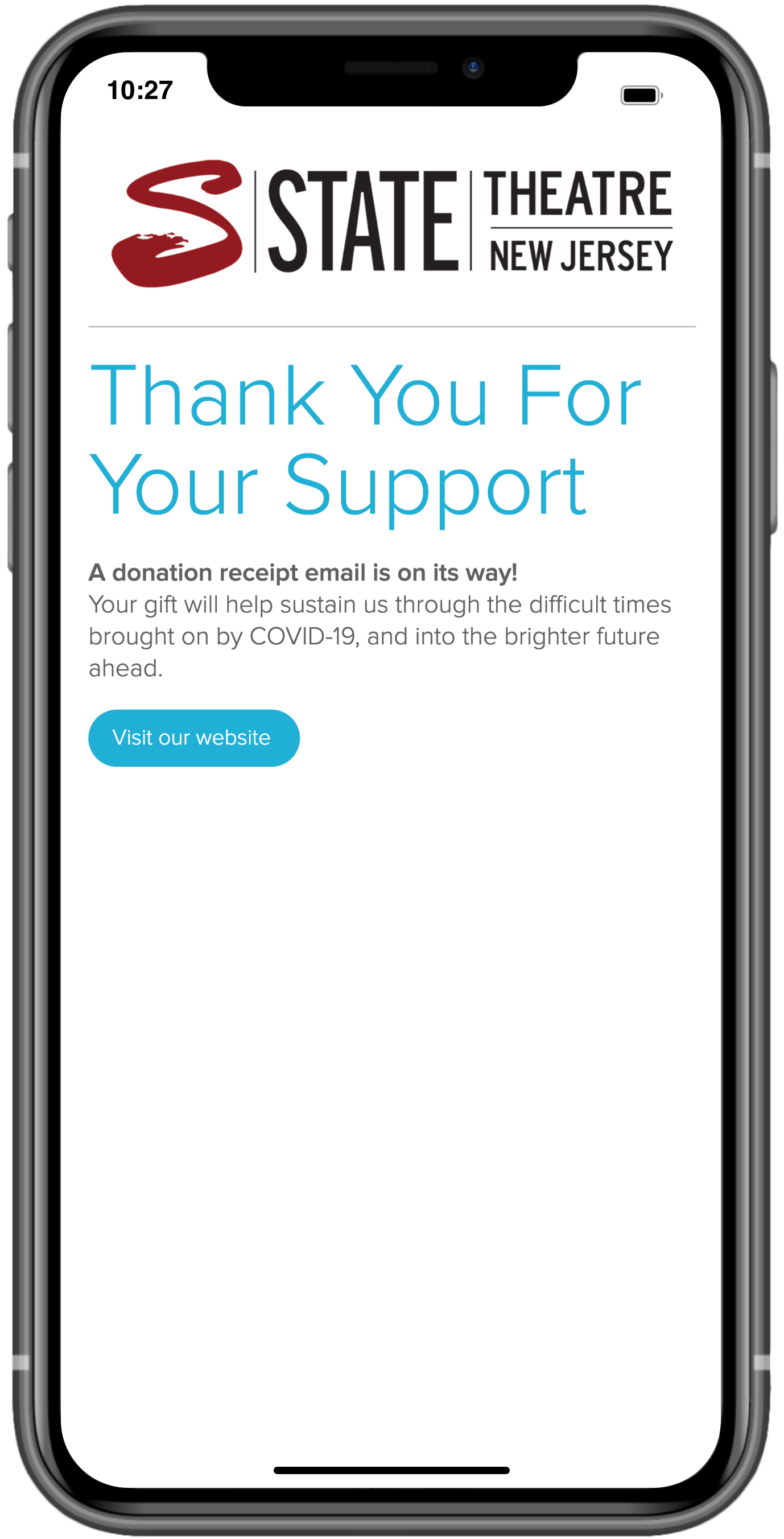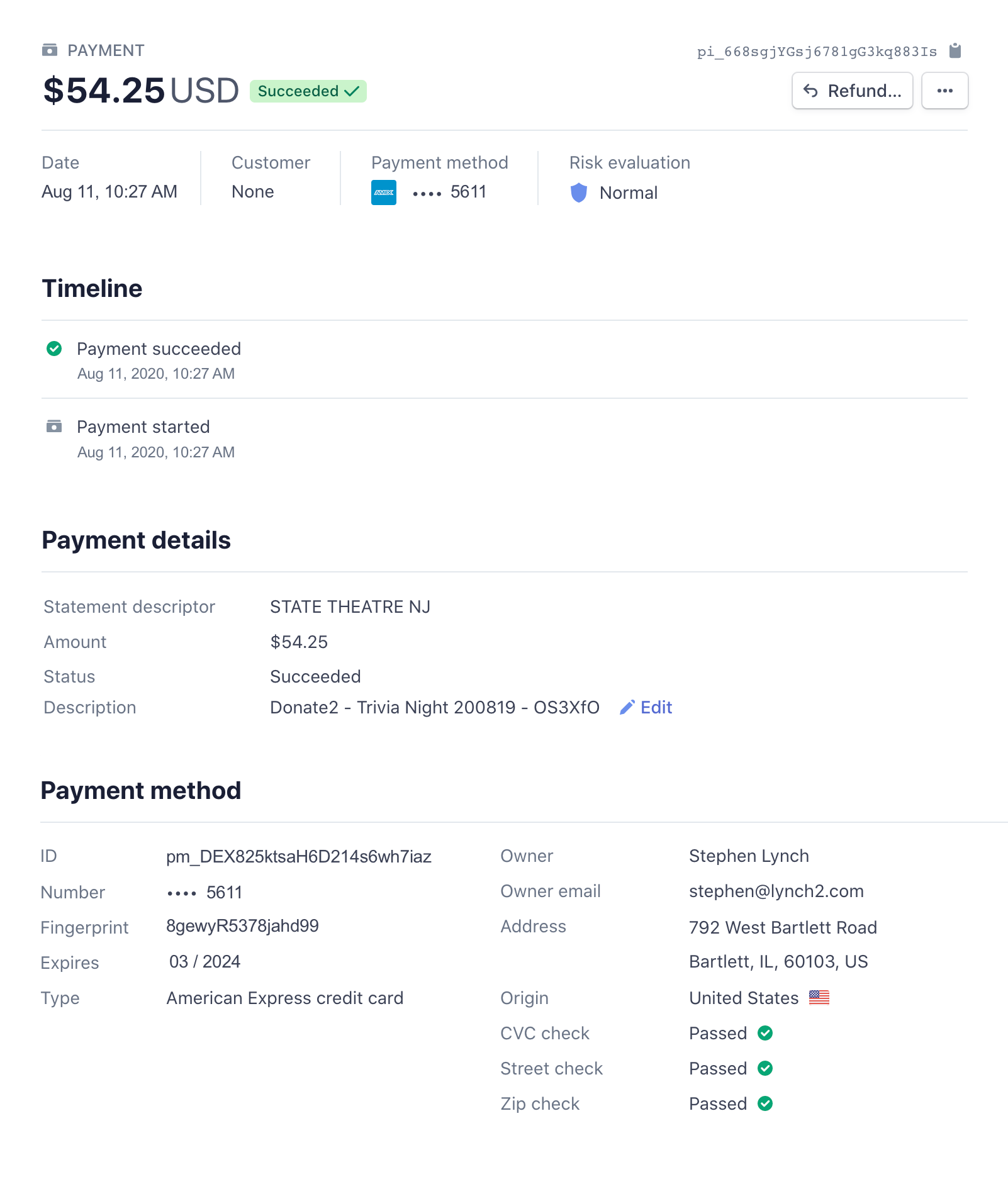 Payment Processing With Stripe
When a transaction is made, it's processed into STNJ's Stripe account. Stripe processes their credit card transaction fee and our application fee, automatically deducting from the total. The remainder is deposited into STNJ's Stripe account. A payout schedule can be configured to transfer the money from their Stripe account to their bank account.
All validation, error checking, risk evaluation, security, PCI compliance, and fraud detection along with so much more is handled by Stripe. Technically, we never handle the credit card or the money–that's all with Stripe!
Stripe provides the ability for STNJ to download their own PCI SAQ A document to aid in their overall PCI compliance. They also have great tools for reconciliation, detailed reporting, transaction history, and more. Refunds take place directly in Stripe as well. The stats on refunds are so small they are hard to measure, which is a good thing! We are seeing donor requested refunds at less than .0005%.
Tessitura Integration
Transactions are blazing fast thanks to the power of Stripe! One of the reasons we separated the payment process from the Tessitura checkout process was to ensure the customer experience would be visually clean, easy to use, and super fast.
Checkout
We communicate with STNJ's Tessitura API and process a website donation. We do this programmatically after the donation is made and the transaction happens in Stripe.
Contribution
The contribution is created in STNJ's Tessitura on the constituent record as part of the checkout process. The contribution shows up just like any other contribution in Tessitura.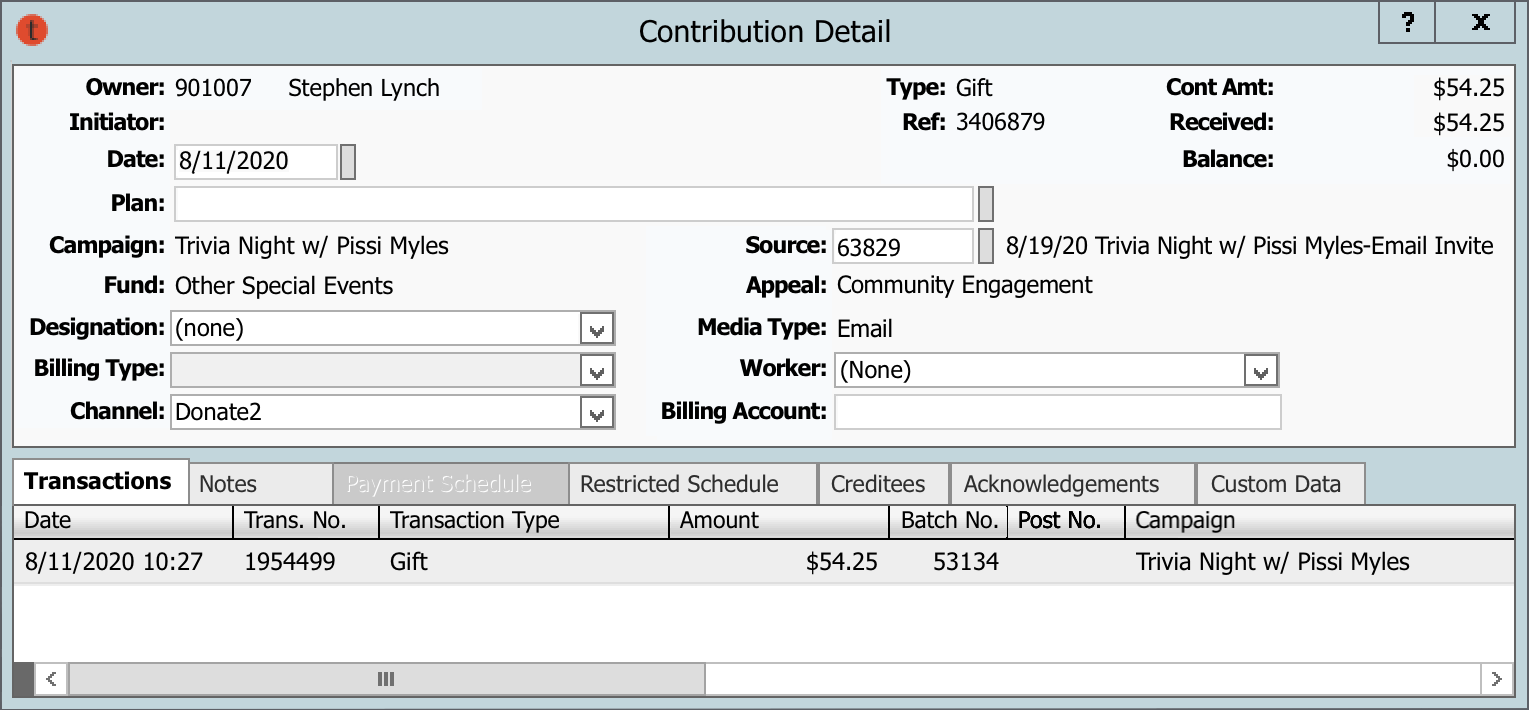 Receipt
We trigger an email receipt in STNJ's Tessitura based on the receipt that was assigned to the Donate2 form. STNJ customized a specific receipt for this event.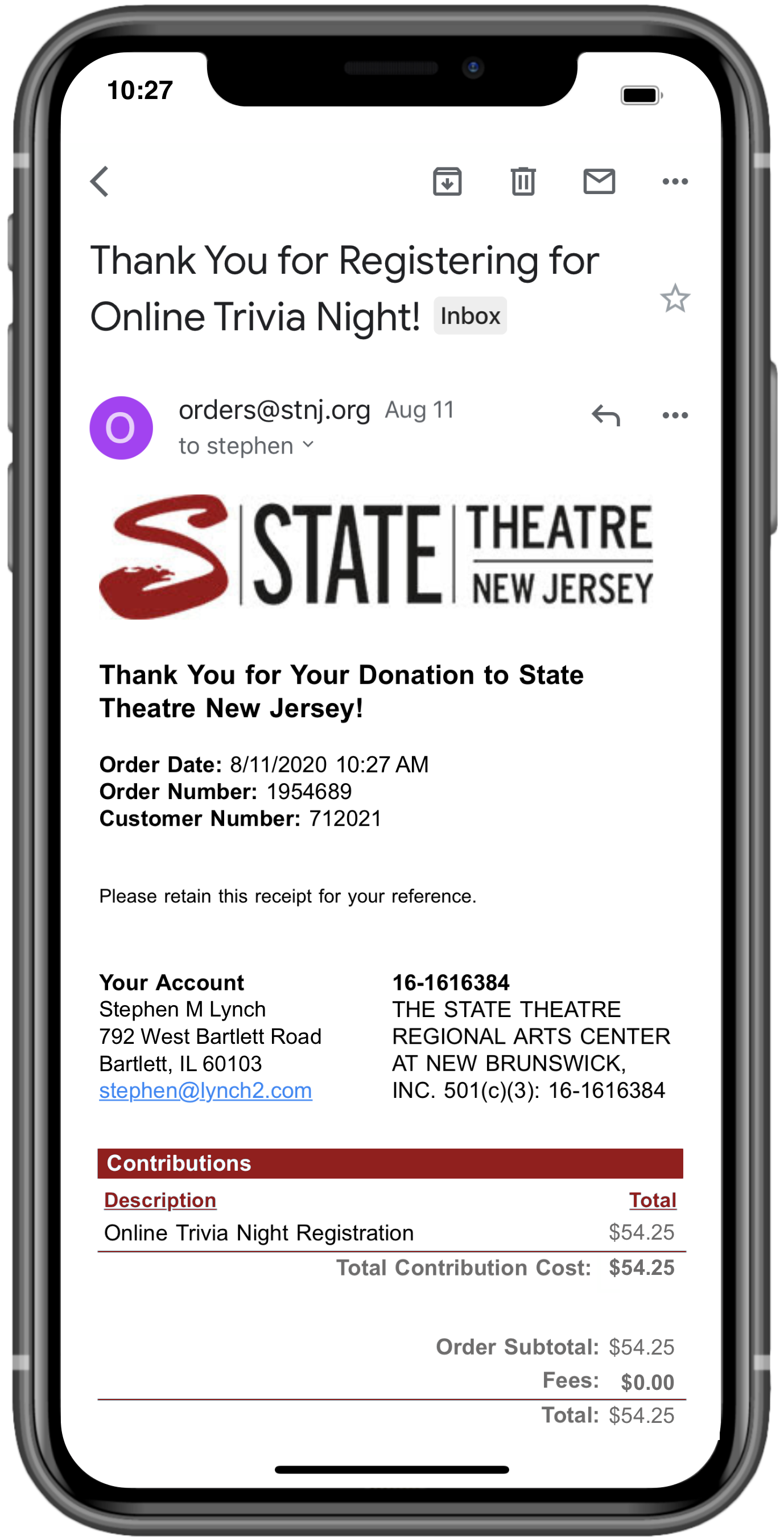 The Power of Prospect2 Marketing Automation
STNJ closes the loop by using Prospect2 for their Marketing Automation platform. While Prospect2 is optional, it has some impressive benefits. Here is how STNJ leveraged this integration to automate the experience for their donors.
Once a donation is made from a Donate2 form, STNJ's Prospect2 account receives the data to update the contact's record. Both Deep Data Ecommerce and 22 custom fields are updated.
Deep Data Ecommerce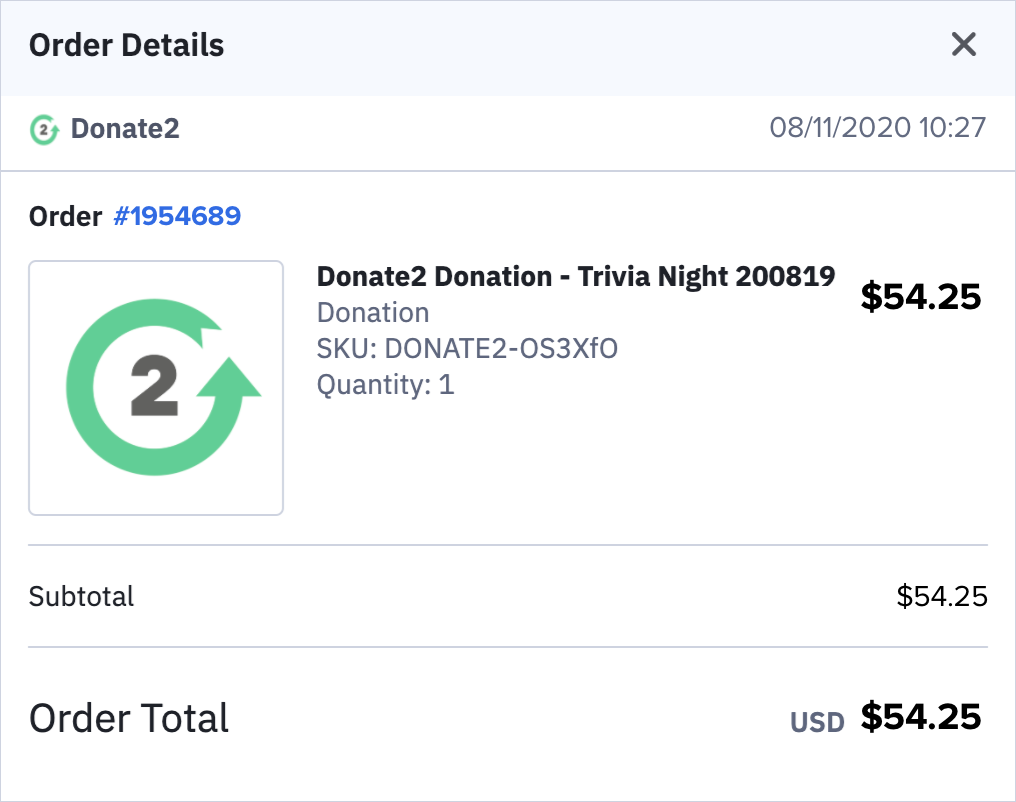 Latest Donate2 Custom Data Points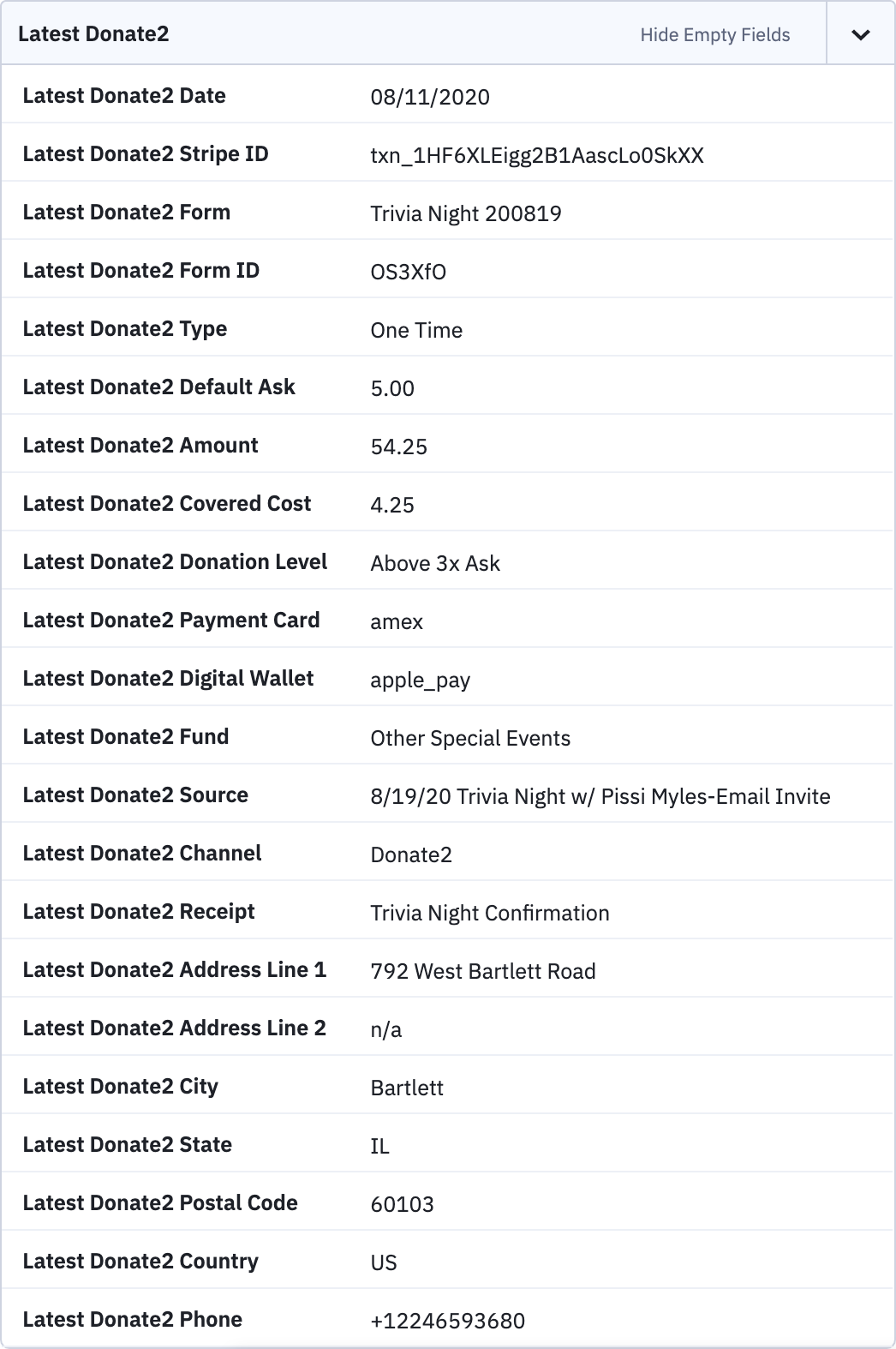 Prospect2 Automation
The automation "Donate2 Trivia Night" created by STNJ has the following start trigger:
Contact made a purchase
AND
The last product SKU is = DONATE2-OS3XfO
Once a contact makes a purchase of the Trivia Night Donate2 form, they will enter the automation and an email is sent with the instructions on how to participate. From there, STNJ can send a reminder 24 hours before, send a personalized thank you to those who participated, tag these contacts as trivia donors, and so much more.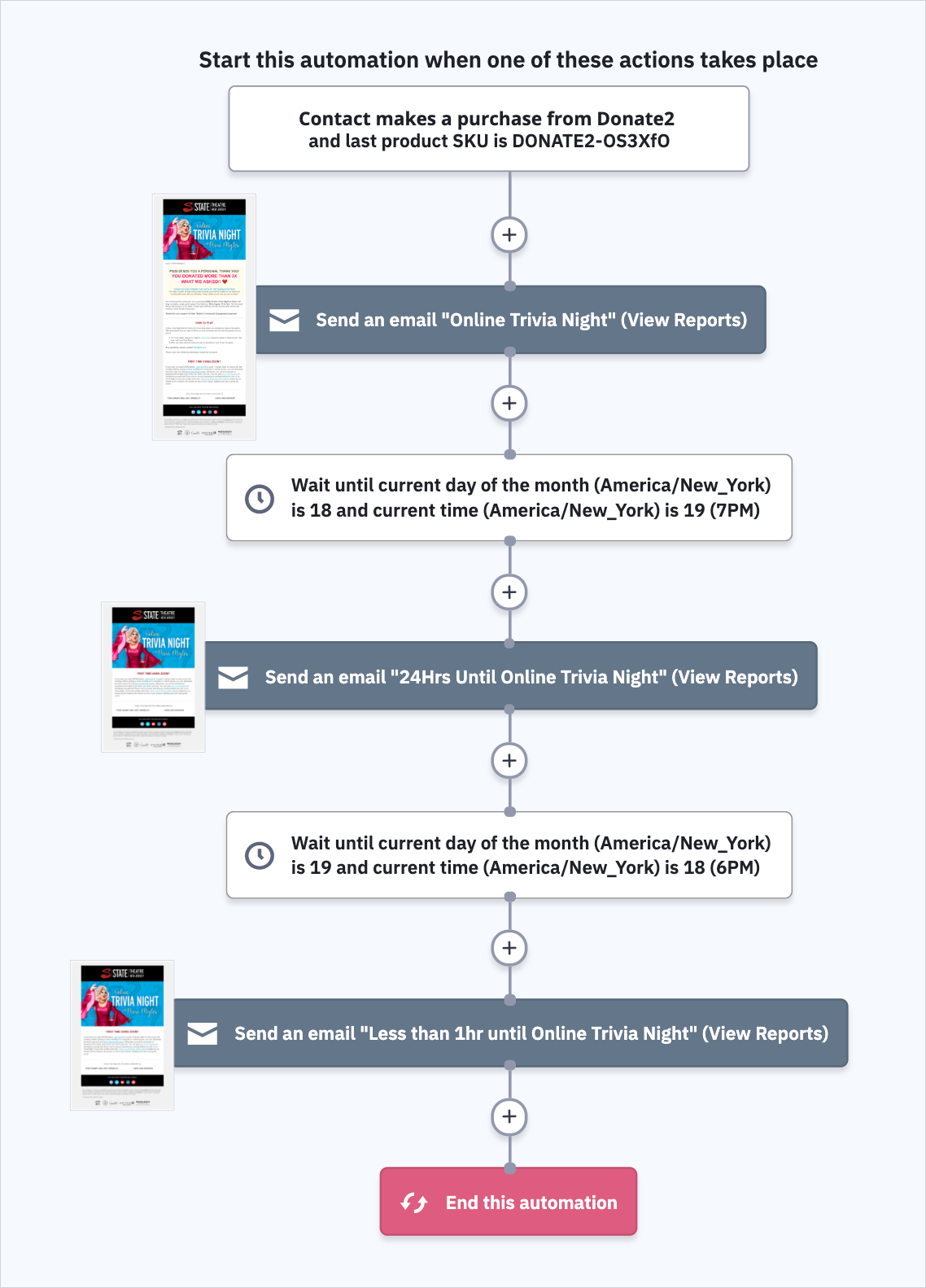 STATE THEATRE NEW JERSEY
"Donate2 Donation Forms provide a very easy way for us to create a pay-what-you-can model for virtual mini-fundraisers. We were able to leverage the forms on our website to create a quick donate path for an online fundraising event that required a minimum donation amount to participate and also allowed patrons to contribute above that minimum. It was a very easy process to set up and the data linked directly into Tessitura. Not to our surprise, almost all the donations for the event came in significantly above the minimum ask amount."
Howard Levine
State Theatre New Jersey's Executive Vice President of Marketing & Development